3D Printing
Print Lab | Open Source Software | Community Website | Printer Features
---
Print Lab
The Computer Science Degree Program has a 3D Printing Lab, which allows our faculty and students to explore their new innovative ideas.  The lab currently consists of a Ultimaker 2 3D printer that is powered by open source software for designing and building objects. 
The Ultimaker 2 provides a print speed of up to 300mm/s and 0.02mm layer resolution.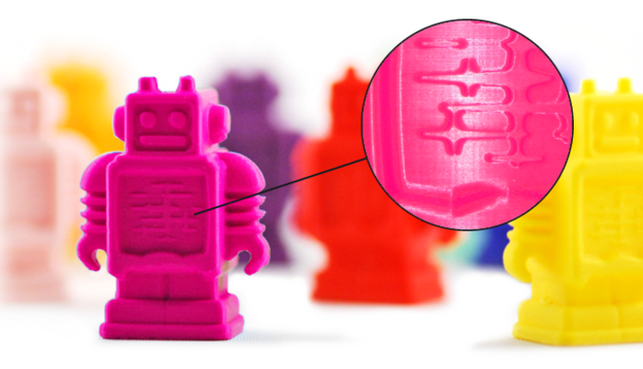 ---
Open Source Software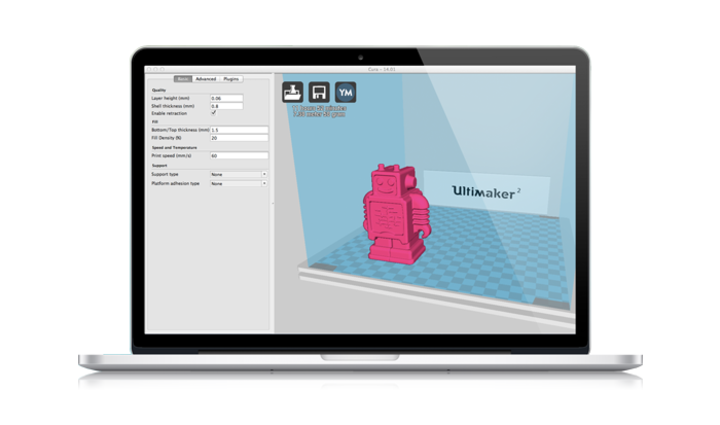 The Cura software provides the following features:
3D model slicing in seconds
Prepares printing files up to 20 micron
Easy to use user interface
Multiple industry-standard files STL / OBJ / DAE / AMF
Four simple standard profiles
Extensive expert setting
Download the latest open source software to start building your project from https://ultimaker.com/en/products/ultimaker-cura-software.
---
Community Website

Ultimaker also allows access to their online community website YOUMAGINE that allows everyone the ability to share and collaborate their 3d print designs.
---
Printer Features
The Ultimaker 2 provides a maximum build volume of 230 x 225 x 205 mm and takes up 357 x 342 x 388 mm of desktop space.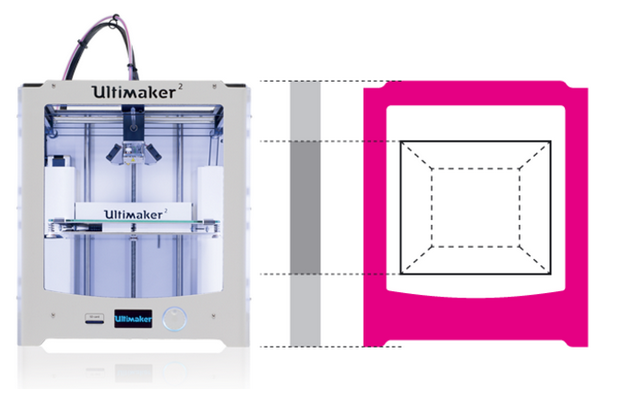 Layer resolution: up to 20 micron
Build volume: 23 x 22.5 x 20.5 cm
Position precision X Y Z: 12.5 / 12.5 / 5 micron
Print speed: 30 mm/s - 300 mm/s
Travel speed: 30 mm/s - 350 mm/s
Recommended filament diameter: 2.85 mm
Nozzle diameter: 0.4 mm
Stand-alone SD-card printing
WiFi printing ready (future upgradeable)
Software: Cura - Official Ultimaker

Print technology: Fused filament fabrication (FFF)
Frame dimension X Y Z: 35.7 / 34.2 / 38.8 cm (no filament)
Frame dimension X Y Z: 49.2 / 34.2 / 55.8 cm (with filament)
Operation nozzle temperature: 180° - 260° C
Operation heated bed temperature: 50° - 100° C
Ambient operation temperature: 15° - 32° C
Storage temperature: 0° - 32° C
AC input: 100 - 240 V / ~4 AMPS / 50 - 60 HZ / 221 watt max.
Power requirements: 24 V DC @ 9.2 AMPS
Usage cost: ~ €0.05 / cm3 (material and power)
---