Software for Download
Server Products | Development Tools | Office Suite | Other Applications 
Windows Family
---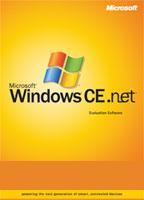 Microsoft Windows CE .NET 4.2 Platform Builder 
Robust real-time operating system for rapidly building the next generation of smart mobile devices, and contains everything you need to create custom Windows CE¨Cbased devices, including: Platform Builder, a set of embedded development tools, an Integrated Development Environment (IDE), and an SDK export tool. Windows CE .NET also provides support for eMbedded Visual C++, as well as Visual Studio? .NET, which provides a complete development environment for building XML Web services and applications on the Microsoft .NET Compact Framework. With these end-to-end tools, you can rapidly build smart designs running rich applications on the latest hardware. 
 CD1 447 MB

 CD2 522 MB

 CD3 551 MB

 CD4 554 MB

 CD5 562 MB

 CD6 282 MB
---

Microsoft Windows Server 2008 with SP2 
DataCenter, Enterprise and Standard Edition 

x64 (64-bit) version: 
  2628 MB
x86 (32-bit) version: 
  1938 MB
---

Microsoft Windows Server 2003 Enterprise Edition with SP1
In addition to including all the features in Windows Server 2003, Standard Edition, Windows Server 2003, Enterprise Edition adds several important features that enhance availability, scalability, and dependability. Key features in Enterprise Edition include: multiprocessor support, cluster service, 64-bit support, Automated Deployment Services (ADS),Microsoft Metadirectory Services (MMS) support,Hot Add Memory, Non-Uniform Memory Access (NUMA), Terminal Services session directory,Windows System Resource Manager (WSRM). 

x64 (64-bit) version: 
  622 MB
x86 (32-bit) version: 
  567 MB
---

Microsoft Windows Server 2003 Standard Edition with SP1
A comprehensive, integrated and dependable server operating system designed to help IT do more with less by reducing costs and increasing the effectiveness of your computing operations. Designed for small organizations and departmental use, Windows Server 2003, Standard Edition provides high levels of dependability, scalability, and security.

x64 (64-bit) version: 
  621 MB
x86 (32-bit) version: 
  565 MB
---

Microsoft Windows XP Professional with SP2
The next version of the Windows operating system, which is designed for businesses of all sizes, and for individuals who demand the most from their computing experience. Windows XP Professional goes beyond the benefits of Windows XP Home Edition with advanced capabilities designed specifically to optimize productivity using the latest advancements in the digital world. Built on the solid foundation of Windows 2000, Windows XP Professional provides improved reliability, security, performance and ease of use, setting the new standard in efficient and dependable computing. 
x86 (32-bit) version: 
  570 MB (64-bit no longer available)
---

Microsoft Windows XP Tablet PC Edition
The newest Microsoft operating system¡ªpaves the way for the most versatile computing experience ever. The mobility of the Tablet PC is combined with ink and speech tools to let your customers take a PC to many more places and use it in many new ways. 
 CD1 566 MB 

 CD2 160 MB
---

Microsoft Windows Vista - Business Edition 
This single download includes multiple editions of Windows Vista.The product key used to install Windows Vista will install it as a business edition. x64 (64-bit) version: 
  DVD 3.8 GB         
x86 (32-bit) version: 
  DVD 2.6 GB
---

Microsoft Windows 7 Professional Edition

x64 (64-bit) version: 
  DVD 3.00 GB         
x86 (32-bit) version: 
  DVD 2.32 GB
---

Microsoft Windows 8 Enterprise Edition

x64 (64-bit) version: 
  DVD 3.3 GB         
x86 (32-bit) version: 
  DVD 2.4 GB
---

Microsoft Windows 8 Edition

x64 (64-bit) version: 
  DVD 3.3 GB         
x86 (32-bit) version: 
  DVD 2.4 GB
---

Microsoft Windows 8 N Edition
(Does not contain Windows Media Player) 
x64 (64-bit) version: 
  DVD 3.3 GB         
x86 (32-bit) version: 
  DVD 2.4 GB
---

Microsoft Windows 8.1 Enterprise Edition
x64 (64-bit) version: 
  DVD 3.6 GB         
x86 (32-bit) version: 
  DVD 2.8 GB
---

Microsoft Windows 8.1 Edition
x64 (64-bit) version: 
  DVD 3.7 GB         
x86 (32-bit) version: 
  DVD 2.8 GB
---

Microsoft Windows 8.1 N Edition
(Does not contain Windows Media Player)
x64 (64-bit) version: 
  DVD 3.5 GB         
x86 (32-bit) version: 
  DVD 2.6 GB
---