Wireless Network Connection in the Hands-on Lab
Note: This wireless network is NOT connected to the department network and the campus network. Therefore it is NOT connected to the Internet either. It is a self-contained and isolated network for network and security related lab experiments.
Assumption: You should have your wireless card inserted in your computer and have all drivers for the card properly installed. The computer should be configured to obtain an IP address automatically.
Step 1: Click the Wireless Networks icon located in the lower-right corner of the desktop (See below).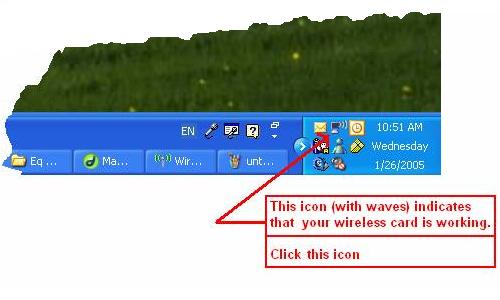 Step 2: The following windows should pop up. Click the "View Wireless Networks" button.
Step 3: A window showing all detected wireless networks should pop up. You should see a wireless network called "CS_Hands-on_Lab_Isolated." If you don't, contact personnel in Engineering A0311.
Step 4: Click the "Change advanced settings" link located in the left panels of the window above. The window below will pop up.
Step 5: Click on the "Wireless Networks" tab and then click the "Add" button. In the popped up window, fill-in the blanks with the information shown below. The Network key is posted on the walls in the hands-on lab. Then click the "OK" button.
Please make sure "The key is provided for me automatically" item is unchecked.
Step 6: Now you can see the "CS_Hands-on_Lab_Isolated" wireless network is in the "Preferred networks" list. Click the "View Wireless Networks" button again to see the list of all detected wireless network.
Step 7: Double-click on the "CS_Hands-on_Lab_Isolated" Network. After a short while, it will connect to the wireless network in the Hands-on lab. (See below)